Exclusive benefits for booking from our website

Better rate conditions
(price and deposit)

More flexible cancellation policy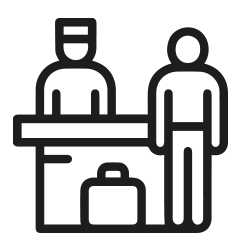 Early check in / Late check out
(if possible)

Room upgrade if there is availability
We accept pets upon request
(up to 12 kg €10/day + 12 kg €25/day)
La Casa del Abad de Ampudia
---
The Casa del Abad de Ampudia is a protected and cataloged building from the 16th century located in the main square, which, due to its history and its stately appearance, constitutes one of the most emblematic buildings of the Villa de Ampudia, a historical-monumental complex in the heart of the Castilian Tierra de Campos.
The entrance vault, the chapel, old paintings and furnishings, stone in the plinths and entrance gate, large adobe and stone walls, railings and wrought iron on the balconies next to the original Castilian quarter doors from the 16th century, mark out building. It has been fully refurbished maintaining its unique distribution and combining its original atmosphere with the most advanced technological advances required of a five-star hotel and a very careful interior design. Carried out in 3 phases, 1998, 2004 and 2022, all of them undertaken by the architect Angel García Puertas of Summum Design Estudio, creating a spectacular and detailed ensemble.
The Hotel Spa *****Casa del Abad siglo XXIhas:






---
7 Standard Double rooms, 4 Superior Doubles with Terrace and another 4 Deluxe Doubles
---
5 Classic Junior Suites, unique rooms located in the original building, and 3 Premium Suites with Terrace in the annex building.
---
Original Family Suite in a totally independent area with 3 standard double bedrooms, 3 bathrooms, living room and kitchen.
Selection of experiences Casa del Abad siglo XXI